Let the Fun Begin!!

A feature site: Truth for Kids - free children's ministry resources; includes devotions/activity sheets & more

"Coloring online, painting games"

SavingUS - children
Great resources for families and children's ministries!

Two fun sites:
Hooked on the Book - "Getting Kids Excited about All 66 Books in the Bible"
Hooked on the Book - "Adventure through the Books of the Bible"

Friends and Heroes - "Animated Bible stories for children"
Video clips, free games/printables for children

BIG Bible Town -- 30 online Christian Bible adventure games for elementary kids

Free Colouring Pages - Dot to Dot and Coloring Sheets - great site!

Kidopo.com - Coloring pages, crafts, printables, online games

Kids Wave family friendly sites

Little Lambs Ministry - Bible stories, coloring pages, puzzles, crafts, songs & more!

BibleRhymes - Stories, games, interactive books, membership site
Bible Game Zone . . . JCPlayZone

Highly recommended: GP4K--Guideposts for Kids

Will you pray for the sick children around the world?


Kids Corner--Children in need of prayer

HIGHLIGHTING: Kid Explorers--Christian and family-friendly entertainment. . . BGMC Kids

Surfing the net with Kids - Preschool activities

Best of 2007 - Surfing the Net with Kids . . . The World Almanac for Kids

New for KIDS and FAMILIES: Chat 'n Roar: JungleWorld Adventures for Kids

Printable Games - Surfing the Net with Kids . . . Free Bible Stories to Download - Bible for Children

Father's House: A Worship Experience 4 Kids at Peggie's Place

Something for adults too! Check out these features at Peggie's Place!
Home and Family Resources . . . Words from the Well . . . Daily Bible Booster

And there's LOTS more for the entire family at Peggie's Place!
Kick off your shoes and stay awhile--Peggie loves company!

NOTE: If you came directly to "Fun for the Family,"
you will also want to check out
The Fun Room at Peggie's Place!

Kids: Check out Games for Kids - Network211 source/Southlake Assembly of God

NEW: GlobalKids.net . . . Heroes of the Faith comic books

NetSmartz411 - Internet Safety info for parents

Featuring: "Ultimate Guide to Crafting with Kids"

Current events: Surfing the Net with Kids
Bible for Children
Kids4Truth . . . Heaven's Inspirations: Children's devotionals

Smart Zone Kids--a kid-safe browser

Recommended: Sesame Street - Let's be little kids together!!
Free Online Coloring Pages . . . Rebus stories for kids - Surfing the Net with Kids
JCPlayZone - "PlayTime with a Purpose" . . . Make Your Own Comic Strip!

Daily Sudoku for Kids
Heaven Quest Universe - 5* Christian sci-fi for kids! . . .

Dan and Louie - 5*

On the Farm with Farmer Bob
Teach Us to Pray
Home Word Scripture Coloring Pages

"Harry Potter 'n Kids: What's a Parent to Do?"
Lots of POTTER links from a Christian perspective!

Search engines for kids and teens:
DMOZ for Kids and Teens
Ask Jeeves for Kids



Special features

VeggieTales

Once Upon a World
Unique, original audio Bible stories and podcast for children.

Animal Cams for Kids--Surfing the Net with Kids

Bible Fun at ChurchFun.com

CyberChase--PBS Kids
The White House--activities from Surfing the Net with Kids
"Topsy Turvy Land"--by Donna J. Shepherd

Family feature: WonderZone.com--for kids & parents

For kids handling "after divorce" and anger issues: My Story

BIBLEMAN!

Christian Kids Links--a treasury of fun links!

ChildFun Family Web Site

GuidePost for Kids

Yahooligans!--5* Yahoo site for kids! . . . Search sites for kids . . . KidsClick! Web Search

Kidz on Earth

Some Great Featured Sites for Kids!

Alphabet Fun - Surfing the Net with Kids
AnimaLand--an animal site for kids from the ASPCA
Bible Coloring Pages for Kids Bible Stories for Kids . . . More online Bible Story links

100 Best Sites for Preschoolers & Kindergartners--an E-book

Alfy - the Web Portal for Kids

CBH Ministries--A Home for Kids of All Ages

Christianity Today--for KIDS!

Crayola.com

EBox Club for Kids (Child Evangelism Fellowship)

Family Web Guide--lots of good links for family fun

HIS KIDS RADIO

Surfing the Net with Kids - Jigsaw Puzzles

JigZone: Online Jigsaw Puzzles--for the whole family!

Kaboose

Kidz on Earth

Kids4Truth

KinderStart--directory of info for parents & learning games for young children

Kitchen Kid Chef--from Kid to Kid/Parent to Parent Web site!

Kids Ranch - fun and encouragement for kids!

Rexanne's Kids Links--highly recommended! <

Lissa Explains It All--HTML Help for Kids!

Surfing the Net with Kids: Creating a Home Page

The JESUS Bus for Kids--lots of Bible stories

More Great Fun Pages!



Let's all color at Color.com!--online coloring fun

Boowa & Kwala - Kids Play Safe



Crafts for Kids--EnchantedLearning.com



Precious Meets the King --online illustrated Christian book

Surfing the Net with Kids: Easy Online Games

Surfing the Net with Kids: the Circus

Thomas the Tank Engine Page (Kiley & Drew's page)

Hurry, Christian kids! Four-star featured sites:


A Kids Heart: Celebrating Life with the Heart of a child

Listen to HIS KIDS RADIO (Children's Sonshine Network)

Animation Kids' Devotional
from the Kid Cave at Cherbear's Den


Gospel for Kids - Line in the Sand--by Gramma Cherbear

Kid Cave Gospel Kids

Big Steps 4 U, Mary Rice Hopkins

Cherbear's Den, kid's directory, stories, illustrations.html

Children's Chapel (with Bible stories!)

Christian Kids Links (Compu-Ad Internet Services)

Children's PlayRoom--by a Christian grandma!

Christian Kids Fun Center

Colors of the Kingdom

Faithville (Christian TV and activity site for families)

Good News Glove for Kids

Handprints from Heaven

Just for Kids (from Maui, Hawaii)

+++++++++++++++++++++++++++++++++++++

Noah's Ark - 4* Kids' Site!

Omega Kids

Professor Pockets' Place

RugRat's Room

Songs of Praise for Children

Teach Us to Pray--coloring pages & more

The Puzzle Club Family Activity Center

Hurry, ALL kids!
Note: Please use Christian discretion in selection of links. Family-friendly links may not necessarily be those with Christian values to which you adhere, so do have fun, but choose wisely.
Featured sites

Pack-o-Fun Magazine--for family craft fun!

Alfy--The Web Portal for Kids

Benny Goodsport and the Goodsport Gang

PBS Kids

Surfing the Net with Kids

A Girl's World!--4* delightful site!

Adventures From the Book of Virtues

BONUS.COM - the SuperSite for Kids (tm) 5* and FUN!

chaosKIDS--kids' home pages & more!

ChildFun.com--great activities for kids

Children's Television Workshop (The Official Home of Sesame Street)

CyberKids Magazine

Discovery Channel Online

Disney Presents...Bill Nye the Science Guy

Dolly, Mickey and Bear (original story by little Jacqui in Australia)

Dr. Internet (Math/Science for 7th-12 graders)

Educational and Entertaining Web Sites for Children

Exploratorium Home Page

Family Friendly Web Sites (see family links)

Family PC Fun; Family Games; Family Values

Family Kids ... The Family Beat

Family Worship KidsZone

> + + + + + + + +

KidsCom--kids, fun, games, friends, toys, etc! - 4*

Kaboose

Kids Korner (I Am a Kid or I Work with Kids)

KidsLinks(tm)

Knowledge Adventure Online

LEGOŽ World Wide Web

Mister Rogers' Neighborhood Home Page

Nickelodeon

Non-Stick Looney Tunes Page

Parents and Children Together Online

Preschool Home Activities for Parents and Young Children

Rainy Day Playhouse - a site for kids' games!

Sesame Street

Seussville!

Smithsonian Magazine's Kids' Castle

Sunnie Bunnie

The Children Page

The Kids on the Web

The Magic School Bus

The Wiggles - Australia's popular music group for kids!

Toys"R"Us

Virtual Frog Dissection Kit--lots of froggy fun!

Wee One's Magazine

Wiser Family Videos

WORLD Magazine (Nat'l Geographic for Kids)

WORLDVILLAGE KIDZ

Yahoo! - Society and Culture:Children:Links for Kids

Thanks for coming!
Please bookmark this page so you can come back again and again!
Peggie's Place loves company!!

With thanks to Songs of Praise
for the cool music playing at Peggie's Place!
This original composition is entitled, "I Want to Be Like Jesus" by Elton Smith and GilbertoBarreto.

Grandmas sure are fun...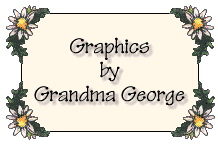 ...They make cookies 'n cool graphics!

Thanks for comin'...now if you don't want to clean Joey and Jason's rooms,
you better hurry back to The Fun Room or just go HOME!

If you know or you are the source of the cartoon kids, please let me know so I can give you proper credit. (pbohanon@peggiesplace.com).

Grandmas sure are fun...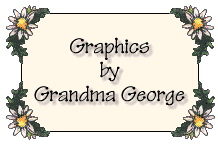 ...They make cookies 'n cool graphics!

Grandma graphic site (for cartoony boy/girl graphics added years ago and site is no longer active.
If you know/are the new graphics site, please let me know so I can properly credit/delete graphics.
Email: pbohanon@peggiesplace.com. Sorry for the oversight.

Peggie's blog, "Fun 'n Faith for the Soul" is no longer available.
F O O T E R

See Search Engine Submission - AddMe
Important note on Bible versions: (and for further info including any copyright info), I recommend you search the exact Bible version on the Internet.) The public domain version of King James Version is primarily used in this Web site; other versions and in-depth information about each may be found at Wikipedia: Bible versions and translations for further information. You may contact me at pbohanon@peggiesplace.com and I will be glad to help you further. Sorry this info is not on the hundreds of references on this site but this info should be very helpful. If there is a problem, please contact me: pbohanon@peggiesplace.com. Sorry for any and all errors. You are welcome to copy/print the poem - Please use "copied with permission" at the end of the poem.)
Note: As of 11/30/15, sites will no longer be checked for dead links. Please contact owner at peggiesplace.com due to tremendous amount of links.

Peggie's Place is a personal ministry website
and has been a member ministry of Gospel.com, a community of online ministries. In limbo at present.

Also, my mobile phone is private and should not be considered a part of my public web site.

See "Credits" on a laptop computer, please, to access current important credit info.

See Credits at Peggie's Place for further information. . . . See Privacy Statement at Peggie's Place! . . .
Peggie's Personal Statement of Faith . . . The Peggie's Place Story & a Mission Statement

Celebrating God's goodness . . . . . . 16 million and more!
Note: Counter keeps a running total of "hits" (which include images and people "hitting" any page or pages),
erroneously identified by me as "page views" for the entire site.
--It jogs around the world and around the clock--to find YOU!
This Christian home has been visited a zillion times since December 26, 1995!
Well, not quite, but there HAS been a houseful--and STILL room for one more--YOU!
The Christian Counter scans the entire site--and there's plenty of chocolate for everyone--so enjoy!
AddThis.com . . . Search Engine Submission - AddMe
Thanks, AddMe, for promoting Peggie's Place, including my new TWITTER page!

Most of the music playing at Peggie's Place originates from Songs of Praise.
Additional (previously named) original source for some midis: Gilberto Barreto.
Visit this great Web site to hear beautiful tunes by many talented artists. CDs are available.

5*-places to visit at Peggie's Place: Tickles 'n Truth . . . The Devotional Buffet
All the rooms at Peggie's Place!

All Scriptures on this website, including all applications, etc., are from the King James Version of The Holy Bible, public domain, unless otherwise noted.
I regret any and all errors. Please notify me so I may correct it. - pbohanon@peggiesplace.com
+ + + + +
Please note that while I strongly adhere to major tenets of the evangelical Christian faith, I may not personally agree with every specific doctrinal belief set forth in other Christian pages.
Life issues include hosting a few private home parties perhaps 30 years ago with "gifts" given me for having a party or many purchases from guests, etc., no dates or total amount available including tax if any. I regret all omissions/infraction of law. Any official may contact me and I will take care of all issues as best I can giving to charity if that is permissible instead of tax or penalty. I regret all omissions and errors on this or any other page on this site.
A safety tip: Internet links and material may include other links and/or material which do not reflect my views or yours, Christian or otherwise. Please choose wisely and use with discretion! And if you find an ugly spider hiding in a dark corner, you may smash it with a broom--I hate offensive stuff too!
Graphics: If your credit does not appear on any individual page, I regret the oversight; please see Credits at Peggie's Place for info,
or email me: pbohanon@peggiesplace.com so I may properly give credit or delete the graphic, as desired.
--Many quote credits in this series: Mikey's Funnies and/or Walking with Jesus Ministries, unless otherwise sourced or not given.
--I have used the symbol - ;-) - in emails, on any social media page, possibly my website and blog, etc; if this is incorrect, sorry for the oversight. Please notify me at pbohanon@peggiesplace.com and I will desist from using it if necessary. Sorry for the oversight and any errors.
Peggie is on Twitter and currently unable to add a profile photo to the most current twitter page - Peggie's "Twitter" account - it appears as a "eggshell" and is not spam. As soon as I can get it working, there will be a photo. The current page is not spam, I assure you. My web site is found at Peggie's Place!.
Should you have source information (original or other) for any other site as well - quote, other photo, duplicate profiles, graphic or article and/or not properly used, or duplicated photos or profiles not permissible, https://twitter.com/Pegleg1940 or other sites, credited, resized, improperly, unpermissioned or inadvertently used as a profile photo, undesirable, etc., "unknown," or from which I should obtain permission, or should linking be inappropriate/non-permissible/inaccurate, or a misunderstanding/error of any and all issues including Tickles 'n Truth articles and graphics, please notify me so I may appropriately resolve the issue.
Please be sure you always are seeing the most recent links to my page by accessing my current Web site, peggiesplace.com. Please notify me if any such errors you find so I may correct them in any of my files, or photos that should be or not have been deleted. I regret any such/similar errors.
Content of many pages have changed since their original creation and use, whether on Facebook, Twitter, Wordpress, etc.
I trust each section of this web site and applications have separate profile photos for each and regret any duplication between various applications/sections. I want to diversify as much as possible. Note: As of 11/30/15, dead links will not be deleted due to large amount. Contact me for details on a specific link. Sorry.
Official and professional wedding photography of Maureen and Jason Bohanon shown on this site was taken by Meg White Photography, Springfield, MO.
Disclaimer: I am not a psychologist or certified counselor or doctor. This personal site is merely a place for spiritual encouragement and help in the practical living of Christian life.
This footer and reference to violations and/or wrongdoing or errors applies to the entire site considered a part of Peggie's Place and its entities - every page of this site and back-up drive, past, present and future, should a page or two have been missed in including this footer at the end of said page.
I am not perfect, have you guessed!! I am a senior having fun and frustration, attempting to tentatively fit into a very, very technical world. Please forgive any and all "infractions," intrusions, inaccuracies of the law; anything I have missed or forgotten, any technical difficulty, any omission of a home or fashion "party," including about 30-years-ago home parties (w/free mdse "gifts" for certain requirements) of which I have no dates, amounts/ and no tax if not requested by party manager), etc., and if so, write pbohanon@peggiesplace.com to let me know and inform me how to correct it properly in accordance with the law. I regret and am sorry for any and all errors on the web and otherwise as mentioned or omitted above, including any home/household "infractions" and verbal wrongs. As well, if I owe any amounts of money for services or items, I am sorry; please bill me at the same address. This includes my personal mobile phone as well as laptop computer.
Most, if all not, devotionals on this site have been written by Peggie unless otherwise specified.
ete any reference on a business card or online, etc. for this phrase. It is not original with me and I regret the error.)
"Facebook" is a popular site on the Internet and also at Peggie's Place. I regret using the term and initials in various places but it is for id purposes only.
The phrase "where strangers are friends who have never met" on this site, and name/ministry cards, etc., was not original (See Brainy Quote and del See copyrights on all articles. If missing, please let me know: pbohanon@peggiesplace.com
I willl correct or delete with your permission.
I regret any and all omissions and errors throughout my entire site and its entities and wish to correct it as necessary. Please contact me. Also, some items on my mobile phone/computer/back-up drie are private and should not be considered a part of my public web site.
Peggie's Place owns no personal trademarked or registered sites requiring symbols of ownership. Neither is indicated trademark symbol for any product.Please disregard any and all errors.
This Peggie's Place footer applies to entire site and ministry of Peggie, and includes all social media, photos and images, included, resized, or omitted in error, inclusions, omissions or inaccuracies, the Fun 'n Faith blog, an extension of the Peggie's Place ministry as well as previously titled "Fun 'n Faith Friday" and "Fun 'n Faith newsletter and any mobile application." Sorry, but email subscriptions have been canceled.
Should a footer be incorrectly worded, please refer to this one for accuracy. My apologies for anything excluded that should have been included on this page. Please review Credits at Peggie's Place for anything that may have been inadvertently omitted from this page. My apologies for all errors.
I do not know the origin of floralbar appearing throughout this site. Should you know please advise me at pbohanon@peggiesplace.com so I may seek permission or give proper credit or whatever. Thanks. Peggie.
"" As of June 1, 2015, my visiting readers are asked to have no deletions or additions submitted to any page. - due to circumstances, limited if any deletions or additions. Thanks! Peggie's Place regrets any an all omissions or duplications within any Peggie's Place page or program.
Report problems to pbohanon@peggiesplace.com.

Copyright 1996-2016 by Peggie C. Bohanon, Springfield, MO. - pbohanon@peggiesplace.com. - All rights reserved.